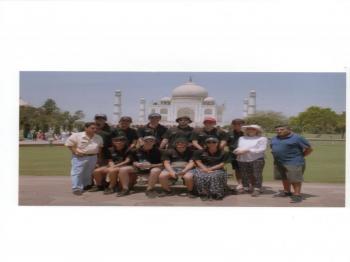 Day1: Delhi - Agra (203 Km, 3-5 hrs).
Morning, at 0700 hrs you will be met by your driver & car at your Place of Residence to be driven to the Mughal splendor of Agra. Later on arrival, transfer to your pre booked hotel. Check in and after fresh & changes proceed for a guided sightseeing tour of Agra Fort which lies across the river Yamuna which abode attractive constructions such as Pearl Mosque, Jahangir Mahal, Diwan-i-Khas, Diwan-i- Am and more. It was here that Aurangzeb the 3rd son of Mughal Emperor Shah Jahan kept his father under house arrest until his death.
Early Evening is reserved for a visit the incomparable Taj Mahal. An architectural love letter, this massive marble temple in northern India is one of the most recognizable structures on the planet. Situated on the banks of river Yamuna, the monumental beauty has inspired countless people around the world and is a fine example of fusion of many architectural styles. It is one of the wonders of the modern world. Built in the year 1652, by Emperor Shah Jahan, to immortalize the memory of his beloved wife Mumtaz Mahal, who died tragically in 1631. It took 22 years and 20,000 skilled artisans to complete this poem in white marble. Witness sunset, before returning to your hotel for Overnight stay.
Meals : None