* Mentioned prices may vary depending upon date of travel, hotel availability, surge pricing and seasonal rush.
Haridwar and Hemkund Sahib Tour Overview
Valley of flowers & Hemkund Sahib combined Trek.- A Colorful Rendezvous with Nature.

Highlights – Meadows of endemic alpine flowers and the variety of flora. Almost 300 species of wild flowers bloom here unhindered by mankind. The prominent species are Brahma Kamal, Blue Poppy, Cobra Lily Anemone, Geranium, Marsh Marigold & Frenula. Also the valley has to offer much more than flowers. There are waterfalls, glaciers, towering mountains, big rivers and quaint villages. And Hemkunt Sahib, a Sikh place of worship and pilgrimage site with its setting of a glacial lake surrounded by seven mountain peaks.

The Valley Of Flowers covers only 8,950 hectares, is encircled by snow capped peaks from three sides and nestled in expanse of Gori peak and The Bhyundar Khal (Pass), at the juncture of The Great Himalayan Range and the tail of Zaskar Range from the west. In 1931 Frank visited here the sublime beauty and a myriad collection of wild flowers and eventually inspired to write a book 'Smyth a mountaineer, botanist and a great nature enthusiast, who accidently fumbled down into this wonder land while coming from his successful Kamet expedition. He found dumb himself by the sheer beauty of it'.

Before the exploration and popularization of it the local people were frequently visiting the valley for their daily need of precious medicinal herbs and other life supporting elements. In September 1982 the Government of India declared it as national park to preserve its precious flora and fauna because some of the species were found endangered. In July 2005 VOKF figured in the list of World Heritage Sites of UNESCO.

This richly diverse area is also home to rare and endangered animals, including the Asiatic black bear, snow leopard, brown bear and blue sheep. The gentle landscape of the Valley of Flowers National Park complements the rugged mountain wilderness of Nanda Devi National Park to the east.10% DISCOUNT (if booked 90 days in advance with full payment) per person on Twin Sharing basis subject to minimum 2 pax travelling together. GROUP Discounts available on minimum 10 paying paxCost of Rail or Airfare to and from the meeting point.
Cost of any individual Airport / Railway station transfer.
Any Increase in the fuel surcharge or any kind of taxes levied by the respective government or statutory bodies.
Cost of extension of the validity or deviation from the route of the tour in case of natural or manmade hazards.
Laundry, wines & alcoholic beverages, mineral water (unless specified), telephone charges,visa, insurance of any kind, shopping, all items of personal nature and also food and drinks not forming the part of the group menus.
Cost of Insurance / medication.
Extra stay pre/post tour.
Any extra expenses incurred for changing the route due to any unforeseen circumstances, forced major instances, natural calamities, political disturbances, strikes etc.
Extra cost incurred due to illness, accident, hospitalization or any Individual unforeseen cost incurring incidence.
In case, cost of horseback, Doli, Helicopter (unless specifically mentioned), chopper etc.
Any private transfers taken to move from one place to another instead of coach
Additional extra topping if taken
If any activity/sightseeing done twice other than plan.
Any add-on sightseeing/activities along with transfers if done other than mentioned in the tour plan.
Any rain cover or gears or special attire required due to monsoon.
Any up gradation in the room category or transportation category
Meals prior to Ghangaria
Tips for guide and hotel staff
Personal baggage
5% GST1-1031-3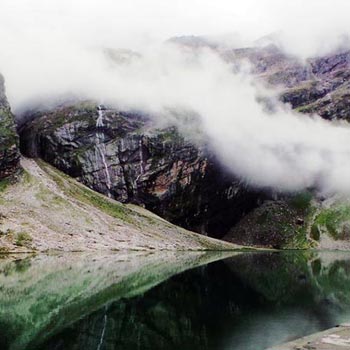 Morning after breakfast, drive to Pulna, via Joshimath, the trek starts from Pulna Village, a 10 km trek to Ghanghria, takes 5 hrs, a crossing Pulna and Bhyundar villages. There are a good number of eating joints on the way. Later on arrival check into your hotel for Dinner & Overnight
Meals : Breakfast, Lunch & Dinner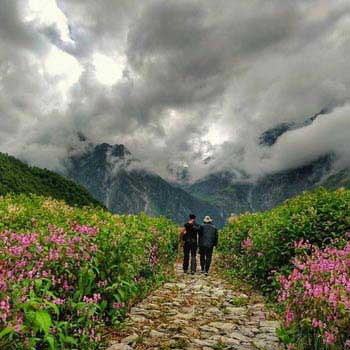 Ghangaria – Valley Of Flowers (3600 m) – Ghangaria (12 km both sides / 6 – 7 hrs)
Morning after breakfast, follow a well maintained trail with packed lunch, cross over a bridge on the Pushpavati River and the path ascends up to the core of Valley of Flowers. You can sense the aromatic smell of exotic flowers and plants seems a welcome call from the Valley with the mesmerizing view of the Ghori peak in the back drop and the Pushpavati River flowing in its vibrant mood amid of the valley. Dinner & Overnight in hotel
Meals : Breakfast, Lunch & Dinner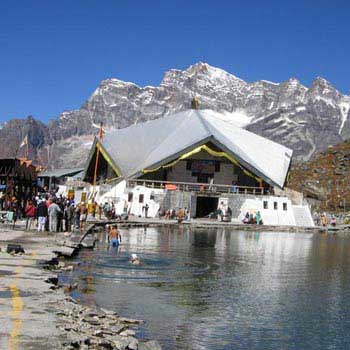 Morning after an early breakfast, start a steep ascent of 6 km. to Hemkund Sahib, a sacred Sikh shrine, surrounded by the seven pinnacle peaks and a serene blue lake on the right a temple erected to the Hindu faith that of Laxman, brother of lord Rama, who is believed to have meditated as the Guru Gobind Singh did in his previous life. This holy place is known as Lokpal (the lord of land) Have your Lunch break and by 3 pm start your descend trek to Ghangaria to reach your hotel before sunset. Dinner & Overnight stay
Meals : Breakfast, Lunch & Dinner
CMORE "The Company" accepts bookings subject following conditions: On confirmation of the programme from the " Company " a deposit equal to 50% (fifty) of the contracted value of the tour price is required to be sent directly to the "Companys" bankers, vide swift transfer/ credit card with a confirmation copy of the same to the "Companys " headquarters, at New Delhi. The balance of the contracted value 50% (Fifty) shall be paid not less than 35 days before commencement of tour OR a deposit of 100% (Hundred) is required 35 days before commencement of tour. Please note for Group Travel, Luxury Resorts or Luxury Train holidays & during Peak season (October to March) 100% (Hundred) is required minimum 90 days prior to travel date. CANCELLATIONS: Travel dates may be changed up to 35 days prior to travel without penalty. An administration charge of 10% will be charged, if a confirmed booking is changed or transferred up to 35 days before commencement of the tour. After this time all changes will be treated as cancellation and will be subject to the charges mentioned below. Cancellation charges are calculated from the day, written acceptance of confirmation along with deposit is received by the "Company" and expressed herewith as a percentage of the total tour price including surcharge as follows: Cancellation Charges: Days Prior to Arrival – up to 35 Days: 10% 34 to 10: Days: 40% Less than 10 Days: 65% Day Tour starts: 100% (No Refund) All disputes subject to Delhi Courts only. PLEASE NOTE THE FOLLOWING: - Tour cost includes presently prevailing State and Government taxes, applicable on accommodation and transportation. In case of any hike in taxes, surcharge will be applicable. Suggested hotels are subject to availability at the time of booking. In case the same is not available, then the best similar category will be provided Tour cost is not refundable for any cause, once the tour starts # All tours subject to 100% advance payment minimum 30 days prior to start date. Tour guide reserves the rights to make changes detour or omit any place of visit if it becomes necessary due to bad weather, bad road, strike or shutdown and any security reason. Tourist will carry their luggage at own risk and responsibility; C' MORE Travel & Tours or any of its associate agents, do not hold any responsibility for any loss of luggage during the tour.