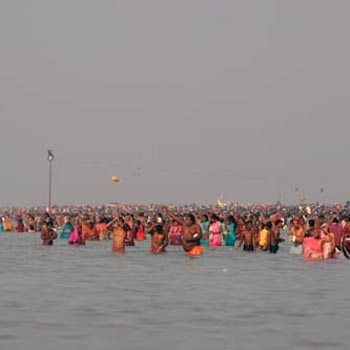 Morning after breakfast is reserved for Full day guided excursion to Konarak Sun Temple & Chandrabhaga beach which hosts an annual sand festival along with Konark Beach Festival in February.
Konarak is a 13th-century CE Sun Temple attributed to king Narasimhadeva I of the Eastern Ganga Dynasty about 1250 CE. The Sun Temple is known for its exquisite and intricate architecture and sculptures. Located on the shores of the Bay of Bengal, the Sun Temple is a sight to behold especially during Sunrise. Its prominent location has guided ancient mariners for around millennia.
Dedicated to the Hindu god Surya, what remains of the temple complex has the appearance of a 100-foot (30 m) high chariot with immense wheels and horses, all carved from stone. The structures and elements that have survived are famed for their intricate artwork, iconography, and themes, including erotic, Kama and Mithuna scenes, it is a classic illustration of the Odisha style of Hindu temple architecture. The cause of the destruction of the Konarak temple is unclear and remains a source of controversy.
This temple was called the "Black Pagoda" in European sailor accounts as early as 1676 because its great tower appeared black. Similarly, the Jagannath Temple in Puri was called the "White Pagoda". Both temples served as important navigational landmarks for sailors sailing the Bay of Bengal. Declared a UNESCO world heritage site in 1984, it remains a major pilgrimage site for Hindus.
Afternoon, after finishing with sightseeing, continue your journey to Bhubaneswar. Enroute stop to visit Dhauli hills located on the banks of the river Daya, 8 km south of Bhubaneswar. It is a hill with vast open space adjoining it, and has major Edicts of Ashoka engraved on a mass of rock, by the side of the road leading to the summit of the hill. It is presumed that the great Kalinga war was fought here. The rock-cut elephant above the Edicts is the earliest Buddhist sculpture of Odisha. The Daya River is said to have turned red with the blood of the many deceased after the battle, and enabled Ashoka to realize the magnitude of horror associated with war. He saw to it that Dhauli became an important center of Buddhist activities.
Continue your drive and on arrival in Bhubaneswar , transfer to Biju Patnaik International Airport to board Indigo flight at 2010 hrs to Kolkata. Later on arrival at 2140 hrs, meeting, assistance & transfer to your hotel. Overnight stay in hotel
Meals : Breakfast