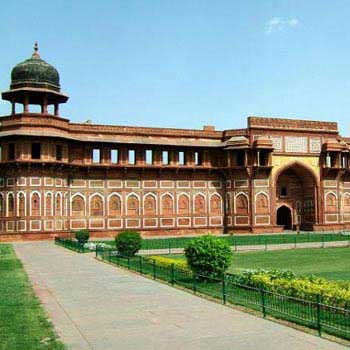 Early Morning before sunrise (subject to weather condition) at 0530 hrs proceed with your guide to Mehtab Bagh which is the best place to see Taj at sunrise. The garden complex is perfectly aligned with the Taj Mahal on the opposite bank. This was the last of eleven Mughal- built gardens along the Yamuna opposite the Taj Mahal and the Agra Fort.
Next visit Itmaudualla - a Mughal mausoleum, often described as a "jewel box", and sometimes called the "Baby Taj", the tomb is often regarded as a draft of the Taj Mahal. Queen Noor Jahan, wife of Emperor Jahangir, commissioned this mausoleum for her father Mirza Ghiyās Beg, originally a Persian Amir in exile who had been given the title of Itimād-ud-Daulah (pillar of the state). Noor Jahan was also responsible for the construction of the Tomb of Jahangir and her own at Lahore. Mirza Ghiyās Beg was the grandfather of Mumtaz Mahal (originally named Arjūmand Bāno, daughter of Asaf Khan), the wife of Mughal Emperor Shah Jahan, responsible for the construction of the Taj Mahal. Return to hotel at 0830 hrs for breakfast.
After breakfast day is reserved for guided sightseeing tour of the Agra City & its surroundings. Begin your tour at 1000 hrs visiting the mighty Agra Fort (UNESCO Heritage Site) which lies across River Yamuna. An era marked by invasions and fortifications, where power was symbolized by grand palaces and grander forts…..during such time was built this awesome Fort and It was here that Aurangzeb, the 3rd son of Shah Jahan (the then Mughal Emperor) kept his father under house arrest till his final demise.
Afternoon is reserved for excursion to Fatehpur Sikri the well preserved ghost city located 35 Kms from Agra. A 1 hr journey brings us to this magnificent fort, built in red sandstone. Once the political capital of India's Mughal Empire under Akbar's reign, from 1571 until 1585, it was abandoned, ostensibly due to lack of water. Sikri shared its imperial duties as a capital city with Agra, where a bulk of the arsenal, treasure hoards and other reserves were kept at its Red Fort for security. During a crisis, the court, harem, and treasury could be removed to Agra, less than a day's march. Visit the tomb of Salim Chisti built by Mughal emperor Akbar in honor of this Sufi saint in 1571 who foretold the birth of 3 sons to the Emperor Akbar, is an example of robust stability combined with originality. Each important edifice here represents a type by itself. Notable among them are the Diwan I Khas, Punch Mahal, and the Buland Darwaza. Return to hotel for overnight stay.
Meals : Breakfast