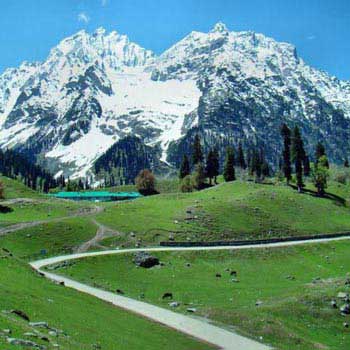 by car for Srinagar. On arrival, transfer to your deluxe houseboat for Lunch. Afternoon proceed for half a day guided city sightseeing tour of Srinagar City.
Srinagar is the summer capital of the Indian administered state of Jammu and Kashmir and lies on the banks of the Jhelum River, a tributary of the Indus. The city is famous for its gardens, lakes and houseboats & is also known for traditional Kashmiri handicrafts and dry fruits.
Srinagar has a long history, dating back at least to the 3rd century BC, and has been known by different names. The city was founded by the King Pravarasena II over 2,000 years ago. Srinagar is one of several places that have been called the "Venice of the East" or the "Kashmiri Venice".
Begin your guided tour visiting the famous Mughal gardens of Nishat Bagh (Garden of pleasure) having an impressive plantation of Chinar Trees on its highest terrace. Next visit Shalimar Bagh (Abode of Love) situated on the banks of Dal Lake. Both the gardens are built on a symmetrical plan of central waterways with fountains dividing a series of gardened terraces, followed by a visit to the famous Shankaracharya Temple, also known as the Jyoteshwar temple dedicated to Lord Shiva. The temple is located on the summit at a height of 1,000 feet above the plains, and overlooks the city of Srinagar. The temple dates back to 200 BC, although the present structure probably dates back to the 9th century AD. The temple was visited by the Adi Shankaracharya and has ever since been associated with him.
Next visit takes us to Chashma Shahi (the royal fountains); Pari Mahal (the palace of the fairies) and the Naseem Bagh. Last if not the least, if political situation allows we will try & visit the Hazratbal Shrine. The silvery white Hazratbal Mosque is revered for housing a relic, the Prophet's hair. Situated near the Dal Lake, the only domed mosque in Srinagar is a place of serenity. Women are allowed only till the first part of the mosque. The Hazratbal Mosque lends a historic and divine appeal to Srinagar. As you walk down the corridors of this famous religious sanctum, you marvel at the intricate Persian and Iranian architectural influences. Return to your houseboat for Dinner & Overnight stay.
Meals : Breakfast, Lunch & Dinner